TURKEY'S BIGGEST HYBRID PROJECT TO DATE WILL BE IMPLEMENTED BY ASUNIM
ASUNIM, a well-established Solar EPC company in Turkey, with a high level system engineering and know-how for Hybrid Wind and Solar Power plants, was chosen by Sancak Energy for the implementing of Turkey's largest hybrid projects to date, with total power of 42 MWp between two separate system locations.
Sancak Energy's final decision was taken after many eliminations where ASUNIM was able to meet their requirements for the installation of the two solar hybrid power plants at the existing Yahyalı and Bağlar Eolic Power Plants.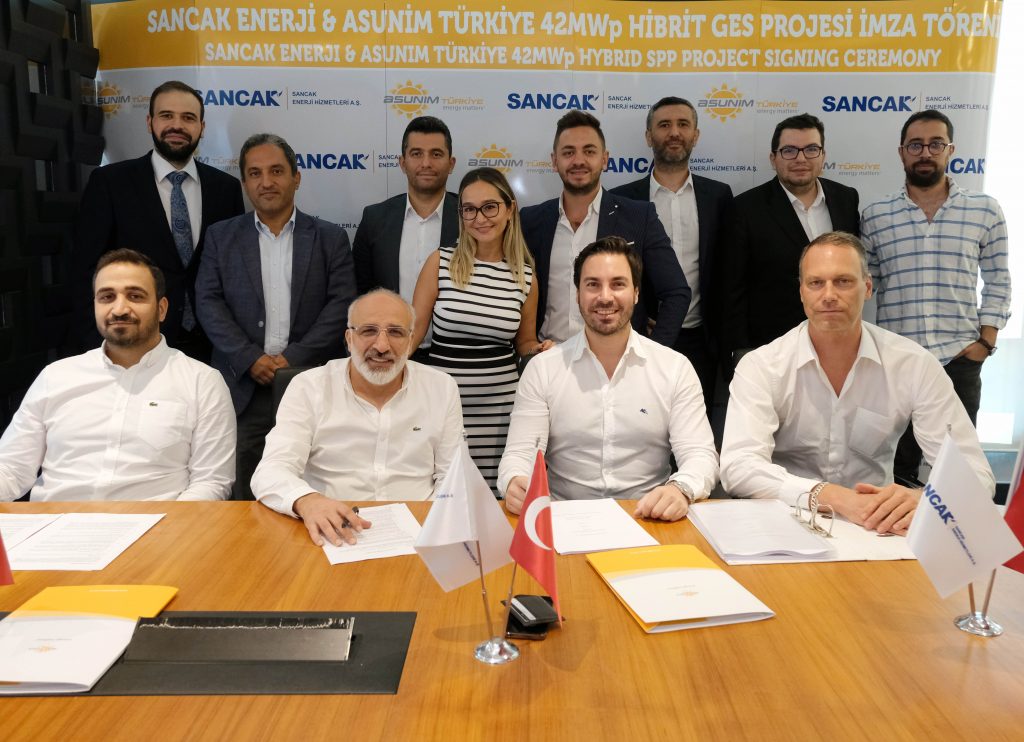 A 26MWp solar power plant will be integrated with the Bağlar Wind Power Plant, which started electricity generation in 2018 with an installed eolic capacity of 103.2MW; and a second 16MWp solar power plant will be integrated with the Yahyalı Eolic Power plant, which started generating electricity in 2015, with a total installed power of 52.8MW.
Thus, when wind energy output is lower, at times of increased solar irradiation, the solar power plants will ensure that the hybrid power plants operate at much higher performance.
ASUNIM Chairman of the Board of Directors Umut Gürbüz stated that they will realize the biggest hybrid projects of Turkey to date, which include two separate power plants at the same time, in terms of being full EPC, and added that "this project we have signed has great importance for us."
"Sancak Energy has shown us its full confidence in all processes of the project, from engineering to design, from procurement to installation, from construction and commissioning to long-term operation and maintenance. In this project type, which we call Full EPC, we will manage the whole process. In this sense, we are breaking new ground for wind-solar hybrid projects in Turkey; we are implementing the biggest hybrid project signed by ASUNIM so far."
"ASUNIM's international experience will be very significant in this project. The use of 3D system design and simulation, advanced engineering and software services, and most importantly, the use of Hybrid Power Plant Controller technology, which will be implemented for the first time in Turkey on this scale, will be just a few of our advantages in the project. The construction of these projects will start in the first quarter of 2023 and is expected to be completed by the end of the year."
About Asunim Yenilenebilir Enerji Anonim Şirketi:
The Turkish Group company of Asunim is based in Ankara and operates as EPC, Project developer and consultant with focus on project legalization, engineering, component supply and the execution of photovoltaic power plants in the Turkish market and greater region. It belongs to the Asunim Group with current further subsidiaries in Portugal, Spain, Dubai and the United Kingdom, accumulating a current track record above 1GW.
www.asunim.com.tr
About Sancak Energy:
Sancak Energy was established in 2007 to meet Turkey's energy needs in the coming years and to increase the rate of employment with new investments. Sancak Energy is aiming to increase the use of renewable energy by opening new power plants in many provinces of Turkey.
www.sancakenerji.com