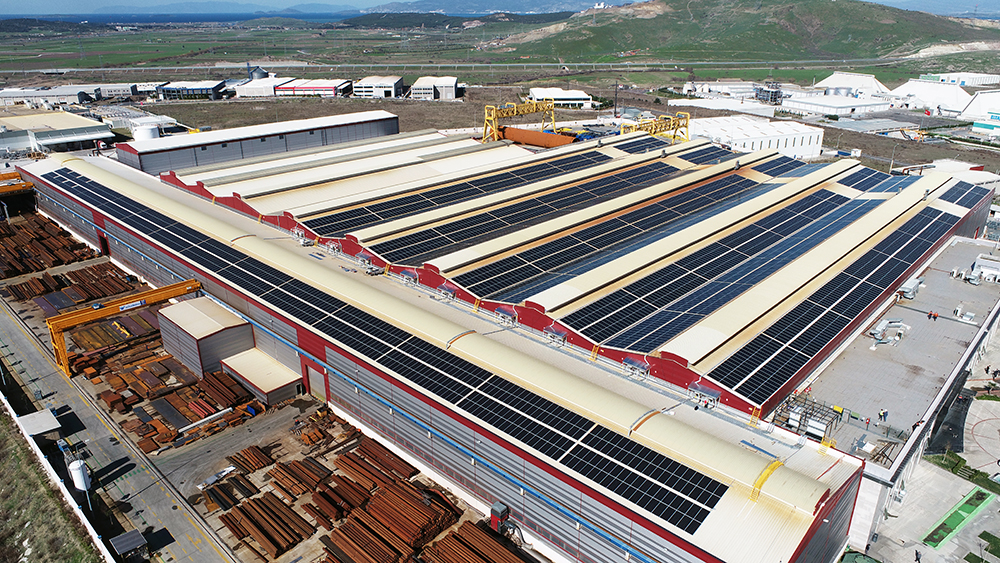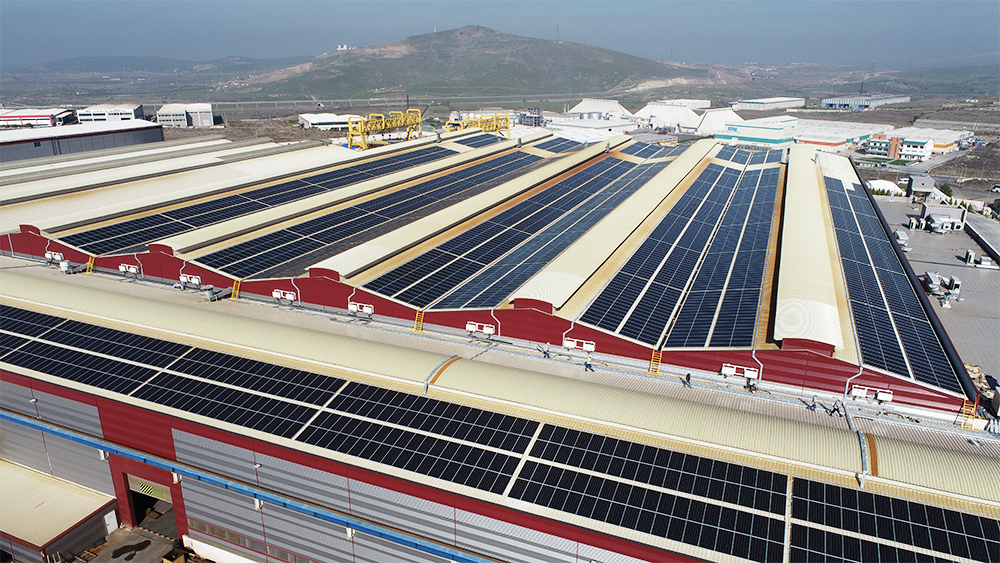 The rooftop system provisional acceptance for Gülermak Steel Construction was finalised by ASUNIM this week. The power plant of 2.64 MWp is designed to be able to produce close to peak level even in harsh winter conditions.
The solar power plant (SPP), in addition to being the first industrial SPP project established in Aliağa, also stands out with special regulations made to prevent performance loss. Thanks to these adjustments, it will be possible to obtain high efficiency from the power plant in harsh winter conditions as in the summer. In order to achieve this performance, the PV generators were designed to be positioned on the roof in order to minimize the loss between PV generators and PV modules. The PV modules were assembled according to the current class and arrays were designed and applied according to the current value at the highest power. In addition, separate MPPT inputs were used for the South-East-West fronts in the string inverter connections.
In the installation of the project, 6690 Phono Solar 395Wp Monoperc solar panels along with 18 SMA 110kW inverters and PMS steel mounting system were used. This project is estimated to generate 3.7GWh of electricity per year.
With an area of 157 000 m² and a total capacity of structural and mechanical production of 30 000 ton of steel per year, Gülermak is one of the largest steel factories in Turkey and exports its products for over 50 countries in the world. 1/4 of these products will now be produced with the input of the electricity generated by the solar power plant installed by ASUNIM.
Maintenance and operation of the project will be carried out with full Asunim quality warranty and by Maxima Enerji, one of the leading O&M companies of Turkey.
About Asunim Yenilenebilir Enerji Teknolojileri İnş. Müh. San. Tic. Ltd:
The Turkish Group company of Asunim is based in Ankara and operates as EPC, Project developer and consultant with focus on project legalization, engineering, component supply and the execution of photovoltaic power plants in the Turkish market and greater region. It belongs to the Asunim Group with current further subsidiaries in Portugal, Spain, Dubai and the United Kingdom, accumulating a current track record above 1GW.
About Maxima Enerji Sistemleri Teknik Servis Ve Taahhüt Ticaret A.Ş.:
Maxima is based in Ankara, Turkey and operates as an O&M company with focus on PV project operation and maintenance of Asunim's own EPC portfolio and third-party system customers in the Turkish market and greater region. It belongs to the Asunim group. Many years of experience flow into Maxima fine-tuning and detecting errors, leading to drastic increases of energy yield on existing solar power plants.